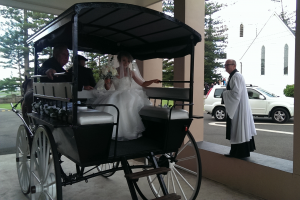 Looking to get married? We love to help make your special day all that you hope for. Please read the following information then submit an online enquiry using the link in the Fees & Charges paragraph below:
Bookings
Whilst we will do our best to accommodate your preferred date and time, bookings are done on a 'first come, first served' basis. Bookings are generally for a morning or an afternoon only, not for the entire day, as it can transpire that there are two weddings on the same day.
The Ceremony
All weddings must be conducted 'according to the rites of the Anglican Church of Australia'. There is some flexibility in the order of service; options can be discussed with your minister. If you would like an outside minister do the ceremony, you will need the approval of our Senior Minister. He will need to speak with them and you before approval is given; please provide their contact details when you complete the Wedding Enquiry Form.
Wedding Preparation
The wedding couple normally attend a number of 'preparation interviews', usually with the minister who will be conducting the wedding service. The official 'Notification of Intention to Marry' will need to be completed by the bride, groom and officiating minister at least a calendar month plus one day before the wedding. These are things you would discuss with your minister.
Optional Venues
Christ Church is a delightful church with a traditional pipe organ. It is also equipped with a sound system that supports small bands or can play music from CDs and mobile phones. There are a number of plinths that can be used to place floral arrangements around the church. Christ Church holds about 120 people comfortably; with the use of the balcony this can be stretched to around 140. Services can be streamed across to the Church Point Centre which can be used as an overflow venue for large weddings.
The Church Point Centre: This is a spacious and bright modern hall, which can be used for wedding ceremonies; it can also be hired separately as a venue for refreshments or a more formal reception following the ceremony. The Church Point Centre auditorium can hold around 250 people for a service, which can be streamed to a TV screen in the foyer if overflow seating is required. If you are planning a sit-down function, it holds around sixteen trestle tables comfortably.
The kitchen is fully equipped and the use of crockery, cutlery, chairs and tables is included. The use of tablecloths can be negotiated dependent on when they are needed next and laundering times.
A few things to note:
i) No alcohol is permitted on church premises.
ii) All decorations must be free standing; they cannot be attached to the walls or ceiling.
iii) You would need to make arrangements for the kitchen and hall to be cleaned, all chairs and tables to be put away and all decorations removed immediately following the end of the function as Sunday services and other programs are held regularly in these facilities. There is an industrial dishwasher in the kitchen for washing up.
iv) If you are hiring this venue for a function, you would also need to arrange for Public Liability Insurance as the Church's Public Liability insurance does not cover social functions. Details of how to do this will be supplied with the booking information for the Church Point Centre should you choose to proceed.
St Paul's, Minnamurra: This is a small, country-style church ideal for more intimate and relaxed gatherings of up to 45 people. There is a small hall on the property that can be used for refreshments following the ceremony.
Fees & Charges
These are determined by many different factors in your wedding arrangements.  Please complete the wedding enquiry form and the Office will respond with costing information tailored to your requirements.