We are developing an intentional plan for pastoral care to our church community. By using the following Venn diagram around the circles for those with visual eyes.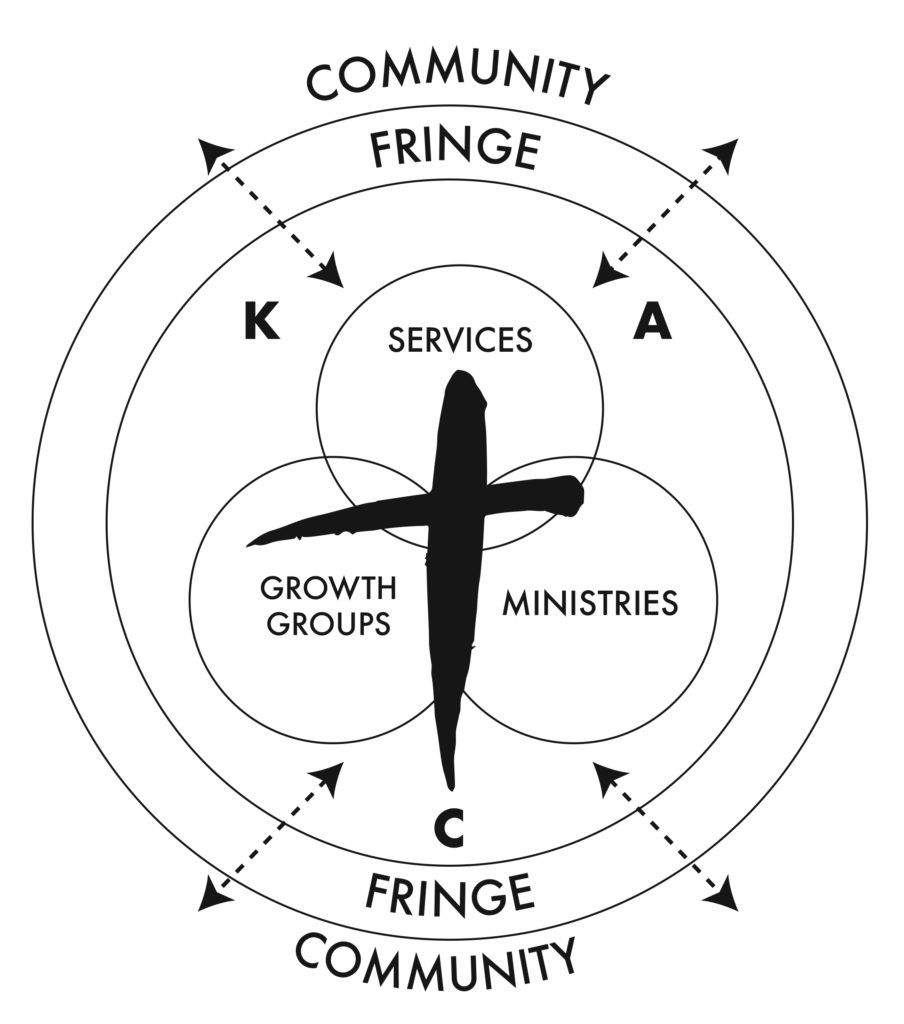 Christ, the cross, is at the centre of all we do.
Three circles, representing the four Sunday congregations, more than 20 Growth groups and the variety of other ministries, which make up the life of our church. So much breadth and these aspects of church life intersect in so many ways. These are places where care can be given and received where relationships grow deeper in Christ.
As we care for our KAC members, we also need to look more broadly, to those out on the fringes of connection with KAC to draw each people in, and work towards a faith in Jesus.
Evangelism, hand in hand with pastoral care is critical, as we seek to make Christ known. Then we must ask, how we can share Christ in authentic ways with the wider community?
Ways such as the care you have shown responding to Anglicare and Berkeley … as we seek to serve others in our neighbourhoods.
This was initially called the "Call Club" it has been renamed "Call and Care".
This has been set up to connect with those not in Growth Groups who are open to receive a weekly phone call. 
For those who have offered to be 'callers' we will provide guidelines and training as required.
We know many people are doing this informally but our goal is to intentionally reach everyone not in Bible Studies so we need to know who is not in contact to prevent anyone being overlooked. 
Here are two examples of phone calls that are 'Call & Care' orientated:
If you know of anyone who would benefit from a call, please contact the office or our Senior Minister – Steve Stanis.
For those already in all small group ministries: Growth/Bible Study/Prayer groups hopefully pastoral care is happening regularly.
I am wanting to encourage this aspect of group life and have asked that each group appoint a representative to link with a pastoral Connector. 
We want to connect weekly with each group by email, both to encourage the leadership of these groups and to collect and provide for any group needs. 
If pastoral care is working well in your group, please keep doing what you are doing.
We are just seeking better communication of all that is happening so that Growth Groups can seek further support if necessary.
Ministries of Pastoral Call and Care:
We are also looking at the various ministries in the church to make sure the many valued connections we are making are being considered beyond our church family and into the community. 
Again, if you know any group or individual who would benefit from any kind of contact, we would love to hear from you.
We want to grow as a community expressing our faith in love.
I am asking that we all support the varied needs of our church by working within this model in unity together.
Remember it is Christ at the centre and he must remain at the centre of all we do.
KAC is:
K- Knowledge in Christ
A- Applying what we know
C- Caring for one another and reaching the Community by expressing faith in love.