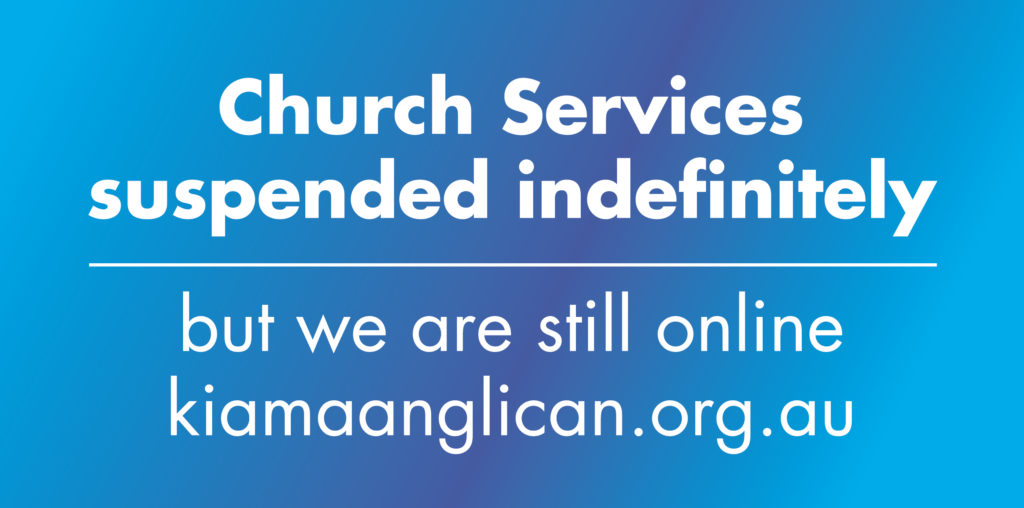 The Current Situation
The Archbishop, Glenn Davies, has issued instructions that all Anglican churches in Sydney Diocese are to cease all church services and public meetings, effective immediately.  Until this 'ban' is lifted, we are unable to conduct any public church service in any of our church venues, and all mid-week and weekend meetings which are open to the public to attend have been cancelled.  All children's, youth, adult and retirees' ministries are included in this ban, and the AGM has been postponed indefinitely.  Horror of horrors, we will not be conducting any public services over the Easter weekend.
It is still possible to meet in small groups with fixed membership – Bible study and prayer groups, staff and Parish Council meetings, etc – as long as the normally expected precautions can be maintained (eg, one and a half metres 'social distancing', hand-washing, care with touching each other and shared surfaces, self-isolating if unwell, etc).
If your space at home is too limited for your group, it may be possible to book space at the church premises (Kiama or Minnamurra), where additional care will need to be exercised (it is 'public' space), and no food or drink can be provided or shared.  We also encourage groups to find creative ways of sharing on-line, using platforms such as Facebook, Skype or Zoom.
Our Response
The Staff team has met on Wednesday and Thursday this week, and the Wardens met on Wednesday evening, as we seek to find appropriate ways to respond to these rapidly changing times.  There are two key priorities for us – the first is to do all we can to protect one another's health and well-being through this crisis, and the second is to continue (somehow) to 'do church together' without actually coming together.  We need to find ways to edify and encourage each other, to love and care for each other, to ensure that everyone is in contact with others and to find ways of looking beyond ourselves and engaging and connecting with the community around us.
We are examining possibilities of using technology solutions to bring a weekly 'church service substitute' to our homes.  We are not planning to 'live-stream', so families and individuals will be able to choose their most suitable time to sit and watch at home.  We'll notify you when we're clear on what this will look like this weekend, and how you will be able to access it – and please feel free to provide feedback as we settle into a more regular pattern of production.
We have begun to talk about meeting in small groups (of no more than 10) on Sundays, for those who'd like to meet together, to read the Bible, discuss and pray.  Don't yet know exactly what it will look like, but watch this space.
Tracey (families and children), Steve (youth), Aiden (young adults / 6pm) and Geoff (retirees) are all thinking of ways of keeping in touch, and engaging with one another within the different age, stage and interest groups.  More of that when there is more to say – and please let us know of any ideas you might have.
We want to ensure that no-one is isolated or out of contact – we are beginning to work through our lists of people, and will contact those we feel we should check on, but if there is anyone you know of, or if it is you yourself, who has become isolated as a result of all these changes, please contact the church office and let us know, so we can ensure we have everyone pastorally covered.
A number of people have suggested Christian resources which are available on-line.  We are examining some we've been recommended, and you may know of other resources you have used or referred to.  Please let us know (email the church office, Steve and me, or the staff member specific to your idea) of helpful sites, apps, ministry aids, etc, which we might be able to list on our website, which could be helpful to more of us during the coming months.
Please use this website (and other platforms, eg, Facebook and Instagram) for receiving updates and information.  We will do our best to keep these up-to-date, and to post everything that will be helpful to support us and our community as we work through the times ahead.  And when we feel it's important, we'll send an email like this one.
For the latest update on KAC's response to the changes due to COVID-19, click here
Conclusion
These are very challenging times, new and different to anything any of us can remember.  We ask you to pray that God's kingdom and rule will be seen in his world and amongst his people; that his church will be protected and cared for in a way that will see us strong, courageous and hopeful, not despairing or without hope; and that we may be challenged and excited to find new ways of loving and caring for others, to continue to engage in Jesus' mission, and to be workers in his harvest-field.
God bless you and keep you.
Rod Harding
Steve Stanis
19/3/2020